'How much is my online store worth?'
If you've ever asked this question, you're not alone.
Selling your store can have huge emotional and financial implications, so it's important to keep an accurate and up-to-date estimate of exactly how much your business is worth. The problem is, without the right tools, assessing your store's value is a complex task.
But it doesn't have to be.
Our tool, Sellers Signals (or 'Signals' as it's affectionately known), provides in-depth performance analytics in one central spot. Specially tailored for ecommerce sellers, Signals helps you gain clarity on your Amazon store's overall health and value in a matter of minutes.
In this article, we'll explain why an accurate business valuation is crucial and go into detail on how Sellers Signals can help you uncover your store's value, fast.
The scoop on knowing what your store is worth
Why it pays to have a reliable business valuation for your Amazon store
Valuing your store and optimizing its value (with a little help from Signals 😉)
The best way to get a valuation for your growing Amazon store
Don't want to waste hours manually calculating your Amazon store's value? Let Sellers Signals work it out for you.
Why it pays to have a reliable business valuation for your Amazon store
Here are just a few of the top reasons why an accurate business valuation is crucial to building a futureproof ecommerce company:
Ecommerce is constantly changing: The ecommerce landscape is evolving fast — which means so are the trends that impact your store's value. A real-time business valuation will ensure you are always in line with the market.
Valuations are a door opener: One of the most important things you can share with a potential buyer is a business valuation that shows your store is a great investment. Investors want to know how you are performing financially before they dig into the everyday workings of your store.
Manual valuations = costly errors: When you use manual tools for processes like these, it's easy for errors to appear. A well-built business valuation reduces the margin of error, so you can say goodbye to inaccurate valuations that cost you money.
Get your store on (and off) the market faster: As a busy seller, you already have multiple tasks on your plate. You may find yourself having to rush your valuation, or even shelving the idea altogether. On the other hand, with a purpose-built tool to do the groundwork for you, you can save time and get an estimate of your valuation quicker.
Gain confidence and clarity: With an accurate and up-to-date business valuation at your fingertips, you can wave goodbye to the guesswork and gain the confidence and clarity that you're on the right track. 👌🏽
Whether or not your end goal is to sell your business, your valuation should be your north star metric. This number summarizes your store's performance and success of your business.
Valuing your store (with a little help from Signals 😉)
Assessing your Amazon store's value is a complex task — and a basic Excel sheet just won't cut it.
To get the job done accurately and efficiently, there's really only one option:
A digital business valuation tool that keeps you updated in real time.
Get a sense of your Amazon store's value with Signals' Business Valuation report
Sellers Signals combines SellersFunding's proprietary models and expertise with your store's data and manual inputs to give you an accurate estimate of your valuation.
Once your store is connected to Signals, we will automatically calculate your valuation using your marketplace data. Signals' models combine your historical Gross and Net Sales with our forecasts for both metrics to provide you with a valuation range – a minimum and maximum value for your store.
Through this report, you can quickly get a sense of your store's value and track its evolution over time. Additionally, you can break down your valuation by currency (if you sell in multiple countries) and consolidate all your sales in USD to get a full picture.
Since this calculation only considers data we pull from your marketplace, it does not take into account variables such as Cost of Goods Sold (COGS) and Seller Discretionary Earnings (SDE), which are very important for the valuation. To complement the report, Signals has created a new tool to collect all the inputs that are missing in order to calculate a more accurate valuation.
Signals' New Valuation Tool
Our new tool is for users who want to get a quick, real-time estimate of their valuation. The tool consists of a simple questionnaire that asks you for information about your store, mainly focused on financials, operations, and products. With these inputs, we will give you a new valuation range, which is solely based on your answers. You can easily access this tool inside the report, and review and update your inputs anytime.
In case you're interested in selling your business and/or getting an offer for it, you can use the tool to share your intentions and asking price. We will help you navigate this journey by:
Understanding your needs and guiding you in the right direction
Explaining how you can maximize your valuation using Signals
Connecting you with potential buyers
Want to discover your Amazon store's value? Use Signals to get an estimate, fast
"Being able to see how my company grows month by month, it's huge. When I had another Amazon business, I couldn't tell how much it was worth. Having this is a motivator and a north-star for my business" – Thiago Goncalves, Ceci Brands, Sellers Signals User
Optimizing your store's value (with a little help from Signals 😉)
To maximize your valuation, you need to optimize your store's performance. To do this successfully, you must clearly understand what is affecting it.
Signals provides you a complete and organized view of your store so you understand how you are performing and make smarter, data-driven decisions that are going to boost your performance.
With easy-to-use reports, you can track your store's key metrics and get valuable insights on how to improve them. By improving your performance, you will positively impact your store's value.
Let's explore how you can gain a clear picture of your store's performance using Signals and how it can affect your valuation.
A hassle-free Profit and Loss Statement
A great way to highlight your store's success is by showing a strong profitability and cash flow.
That's exactly where your Profit and Loss (P&L) statement enters the picture.
Your P&L gives you an in-depth look of your profits by breaking down your results into these 3 metrics:
Gross Sales
Net Sales
Cashflow
Track your store's success with Signals' Profitability dashboard
From the moment you hit the P&L tab, Signals greets you with a detailed breakdown of your store's current P&L statement without needing to do calculations yourself. You can also look through your store's P&L for the last 12 months to uncover when your store performs the best, as well as any slow periods or key seasonality factors.
Now you can instantly compare your gross and net sales to keep your finger on the pulse of your store's profitability (even when working with multiple currencies!).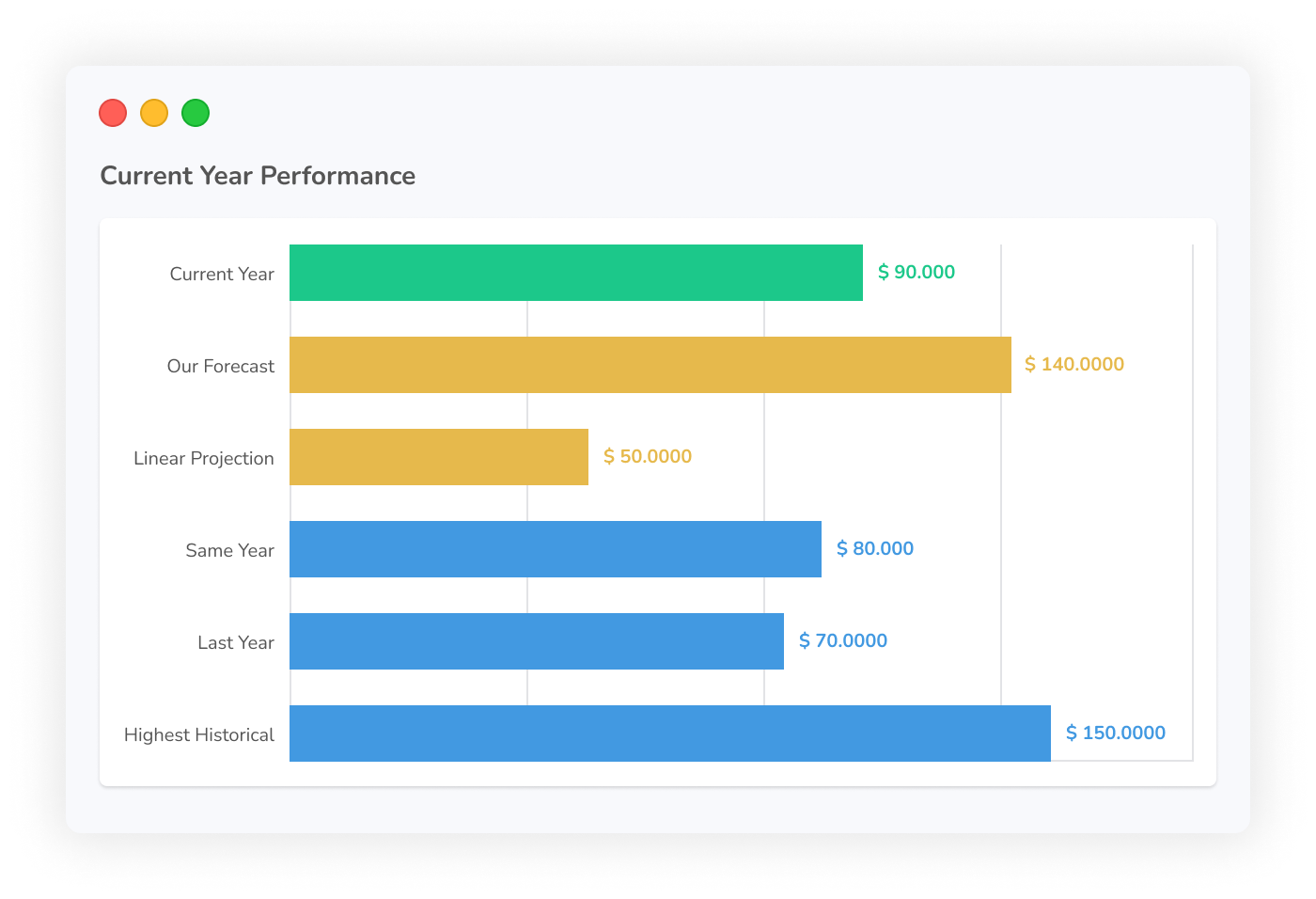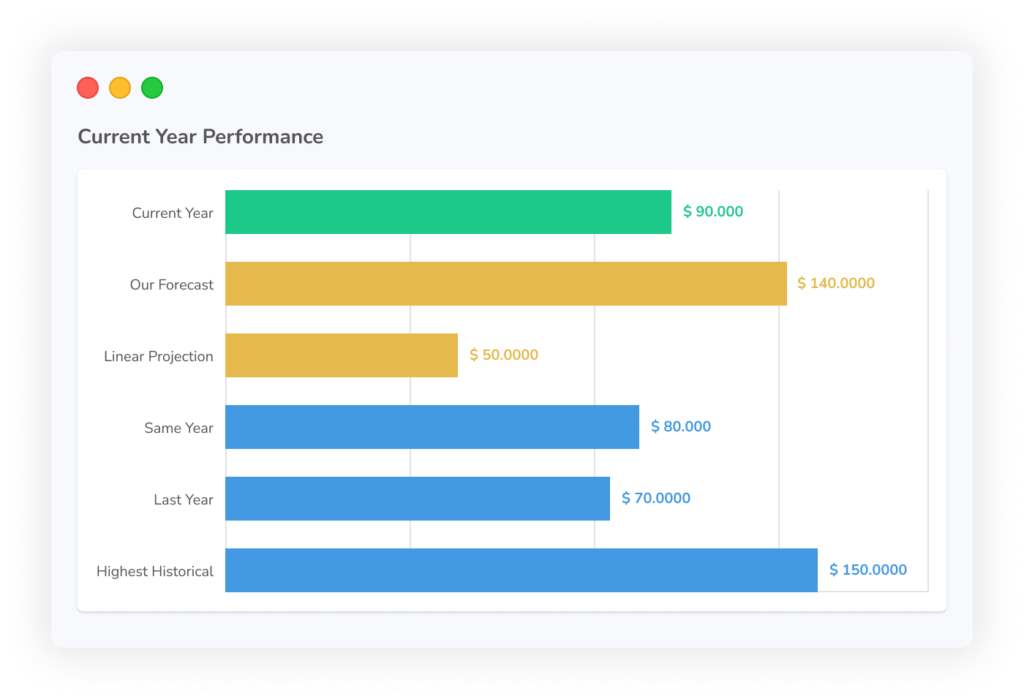 Sales forecasts to predict future growth
No one can know the future, but with an accurate sales forecast, you can get pretty close.
Sales forecasts help maintain optimal inventory levels and avoid costly overstocks and stockouts, so you can keep your store profitable and boost your valuation.
If you are interested in selling your business, potential buyers and investors pay close attention to your sales forecasts, so this is one to keep an eye on from day one.
Assess your store's scalability with Signals' sales forecast report
Whether you need to know how many sales you've got over a week, month, quarter, or year — Signals has you covered. Signals builds well-rounded sales predictions by using your previous sales data in its forecasting models — allowing you to easily gauge whether your sales are on the right track and set realistic expectations for any given time period.
Straightforward customer feedback to optimise your store
Customer opinions are vital for success — especially when you sell on marketplaces like Amazon where customer feedback can impact sales and ranking.
It might not be immediately obvious, but tracking customer feedback can come with huge rewards. Not only does it highlight your successes, it also shows where you can improve to secure even more sales and loyal customers.
Plus, great customer feedback is a simple way to show potential buyers the value of your store and increase your chances of getting a premium multiple.
Easily track customer feedback
With Signals user feedback report, you can see what your customers really think, in just a few clicks. Analyse your positive vs. negative reviews each month and compare them to specific time periods or milestones. Plus, Signals enables you to predict your performance at the beginning of each month so you can estimate how much feedback your store can expect to collect.
Product performance analysis for a profitable portfolio
You've invested time and money into building your product portfolio. But do you know if they are performing well?
A product performance analysis gives insight into your portfolio by tracking all your ASINs in detail. But be prepared — monitoring your products manually can be a major undertaking.
Fortunately, there's a solution for that too. 😉
Assess your portfolio's profitability with Signals' Products report
Every store has its winning products, slow movers, and rising stars. But when you have a high volume of products in your portfolio, it's easy for some to go unnoticed.
With the Signals' Products report, you can reduce the chances of missing key product performance data by assessing your store, ASIN by ASIN.
Here are a few ways Signals can help you assess and prove the value of your product portfolio:
Check your sales breakdown by product to identify your best (or hero) ASINs. Get a quick snapshot of the products that drive your sales so you can allocate your resources efficiently.
Get a full breakdown on the your products' KPIs to ensure profitability:
Orders – The number of orders sold per product
Units – The number of units sold per product
Returns – The number of units returned per product
Gross Sales – Your top-line sales per product
Ads Spent – Your advertising expenses per product
Net Sales – Your product sales minus refunds & chargebacks, Amazon fees, and advertising fees
Net Sales % – Your net sales divided by gross sales. It represents the % of total sales left after covering refunds & chargebacks, Amazon fees, and advertising fees.
Margin per unit – Your net sales divided by units sold (excluding returns)
Integrate your Amazon Ads accounts to view the performance of your campaigns. Get a funnel breakdown of your store's impressions, clicks, and conversions to generate a 360-degree view on your products' ads performance
See the real breakdown of your Advertising Cost of Sales (ACOS), Cost Per Click (CPC), and Return On Ad Spend (ROAS) and their impact on product success
Reveal your best-selling, trending and lagging products with Signals' Products Impression Rank
Check out the product summary for a full breakdown on your Total Advertising Cost of Sales to show how many sales your ads brought in over the last 30 days
One simple metric that summarises the health of your store
The health of your store is a reflection of its value.
You could spend hours compiling financials, customer feedback, and awards — but imagine if you only needed one score to sum it up.
With Signals, it can be as easy as assigning your store a classic letter grade.
Quickly analyse your store's health with the Visinger Score
Signals' proprietary algorithm, the Visinger Score, uses key information on your Amazon store's behaviour to analyse your overall performance, without compromising on accuracy.
The Visinger Score ranges from 0-1000 with 5 categories ranging from Low to Excellent, with a corresponding letter grade from A to E. You can even check how your Visinger score has changed over time to see if your store is on an upward or downward trend.
The simplest path to boosting the value of your growing ecommerce business
As the ecommerce world changes and develops, there's no doubt your store will too.
To stay ahead of the game, it's important to keep track of your store's current performance and what you need to work on to increase and optimize it.
A powerful analytical tool like Signals is key to getting a complete blueprint of your store and making game-changing decisions that will drive your valuation upwards.
On top of that, Signals gives access to valuable resources and expertise that can take your business to next level:
Financial Solutions
A suite of funding, payment, and cash-management products tailored for sellers like you. Check if you're eligible to receive any of them and apply directly through Signals.
Partners & Influencers
Tap into our vetted network of ecommerce service providers and influencers to find the expertise you need to address your growth challenges. Access exclusive deals as a Signals user.
Need help valuing & optimizing your Amazon business? Let Sellers Signals do the heavy lifting.