Gone are the days of point-and-pray marketing. These days, brands need to build meaningful connections with fans and followers based on shared interests, beliefs, and motivations.
Because more than ever, consumers care about the purpose behind the brands they buy from, and they want to be connected with like-minded people. 
Unfortunately, customer communities don't just magically ✨poof ✨ into existence. (Not for most brands, anyways.)
To build a tribe of engaged followers and customers, you have to put in the work. But that effort is well worth it when you have a community that rallies behind you to spread your brand message far and wide.
So, what does it take to create a customer community that actually helps build your business?
We've got you covered with seven of the best ways to nurture and mobilize your customer community to help your brand grow.
The scoop on customer community marketing
7 ways to get your customer community marketing your brand
Give them a place to gather
Be authentic and engaged
Get them involved
Make it about them, too
Run an enticing giveaway
Lean on influencers and affiliates
Connect with a cause
Believe in the power of your people.
1. Give them a place to gather
You don't have to create a special group to build a community around your brand… but it certainly doesn't hurt. While platforms like Instagram are driven primarily by what you post, Facebook Groups open the opportunity for your community to interact with you and with each other.
One great example of this is the Instant PotⓇ Community — a Facebook Group for users of the extremely popular electric pressure cooker — which boasts over three million members and hundreds of posts per day. (Just that, then. 😅)
Together, Instant Pot and its faithful followers have created a vibrant community full of experts and beginners who share their best recipes, offer top tips, ask and answer questions, and much more. 
How does this look in action?
One confused group member recently shared, "So my husband gave me an Instant Pot for Christmas. I've used it twice and I absolutely hate it 🤣 What do y'all use it for that makes your life easier/gives the [Instant Pot] value?"
By the next day, her question had garnered 500+ responses — mostly from avid fans who don't want her to miss out on the game-changing benefits of the Instant Pot. 
Now imagine how things would have played out if there wasn't an Instant Pot Community.
The customer would have received the gift and either chucked it out or stored it away to gather dust. She never would have enjoyed it, and she certainly wouldn't have recommended it to her friends and family.
But with encouragement and suggestions from the Instant Pot community, she engaged with like-minded people and got true value from the product. Plus, the more people that engaged with the post, the more it bubbled up through Facebook's algorithm. 
How much work was it for the brand behind the Instant Pot? Zilch.
The Inside Scoop: Make it a priority
Instead of waiting around for customers to find their group, Instant Brands Inc. — the parent company of Instant Pot — promotes their Facebook Group in the appliance's quick start guide. Pressure cookers can often be intimidating for new users, so they recommend the community as an additional resource to help them get comfortable and confident with their Instant Pots. That means every customer knows where to go to find the group and get great value from a super-engaged community. 
2. Be authentic and Engaged
When it comes to building a social media community, entrepreneur and Instagram expert Suzy Holman believes people only start to feel like they're part of your community when they (1) know you, (2) like you, and (3) trust you.
"There are businesses that push the 'trust' key all day," she explains. "Look how awesome! We had this many clients that converted! This is how many houses we sold… But they're missing the two other huge parts: KNOW and LIKE! We need to strike a balance of know, like, and trust."
So how do you actually help your audience get to know and like you?
Fortunately, social media platforms — and Instagram in particular — are making it easier than ever for brands to engage authentically with customers.
Content like Stories, Reels, and live videos are extra-powerful ways to build stronger, more personal connections with your social media followers. These subchannels offer a spot for more real and relatable content, compared with the highly-curated images that make up a brand's Instagram feed. 
3. Get them involved
Want to really bring your community into your story? Show them their opinions and perspectives matter to you by asking for their input, feedback, and honest reviews. 
Lindsay Heyneman, owner of Lettie Boutique, does this exceptionally well with the community she's built on Facebook and Instagram.
Lindsay developed a truly personal connection with her tribe by frequently asking customers for feedback. Before restocking a popular item, she shares fabric samples and asks which ones are most appealing. She also asks what trends they're interested in, and which colors they're hoping to bring into their wardrobe, and lets her followers vote on which new items should be released first. 
Recently, she even asked her audience for help after receiving customer feedback on plus sized items that didn't fit quite right: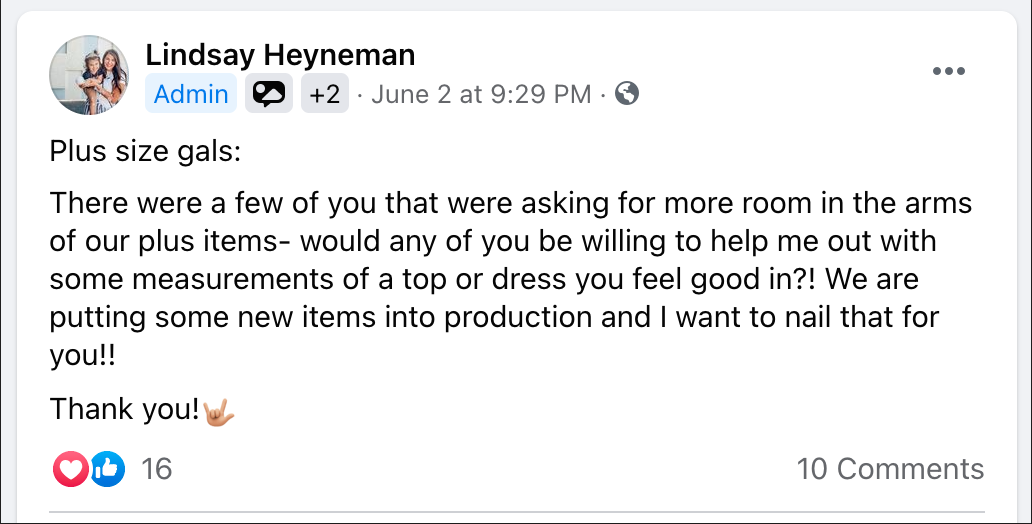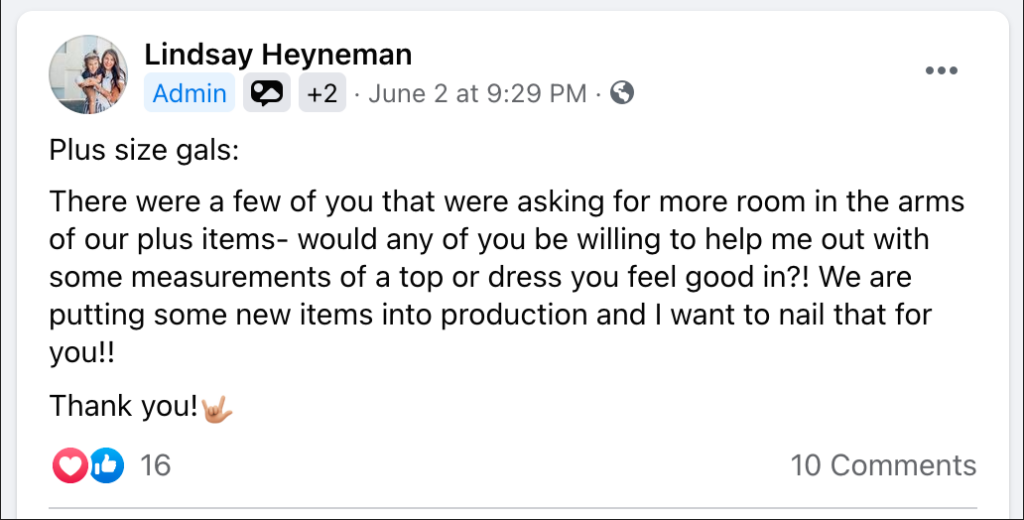 When you have a great community that trusts and believes in you, you have a whole new source of support to help your business succeed.
Not only does Lindsay expertly bring her customers into the Lettie story, but she also demonstrates her desire and willingness to serve them and gains valuable insights into what her customers are most likely to purchase. 
"Everything you do, you want to bring people into your circle. You want to invite them into your story instead of telling them your story. " – Suzy Holman, entrepreneur and Instagram expert
4. Make it about them, too
Whether it's resharing user-generated content or going out of your way to collaborate with real customers, a true community shouldn't just be rallying for you — they should be celebrating each other, too.
One brand that has this nailed is Gathre. You wouldn't know it from looking at their Instagram feed, but most of their posts are actually stunning user-generated content (that just happens to be hyper on-brand for them).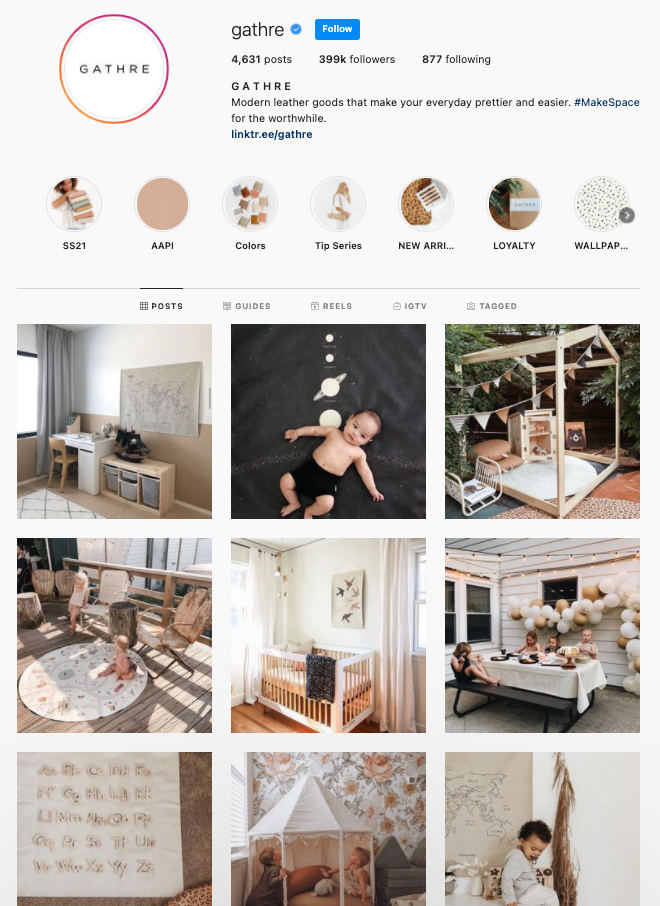 Believe it or not, only one of these photos was produced by Gathre — the rest are from their community of fans and affiliates.
But that's part of the beauty of the Gathre community: Its products are geared toward aesthetes who value form as much as function. In other words, everything they sell is extremely Instagram-worthy — so it's no surprise that so many of their customers are keen to share their products publicly. 
5. Run an enticing giveaway
The most important aspects of building a community are about your mindset. But it doesn't hurt to have some tactical strategies up your sleeve too.
Enter, the giveaway.
Before you brush it off, consider this: Instagram contests and giveaways can help you grow your followers 70% faster than regular posts. Plus, promotional giveaways are an opportunity to generate excitement and get people to engage with your brand. Here's how:
Liking or sharing a post
Commenting
Following the account
Tagging a friend
Each of these increases engagement and extends the reach of your posts and account, and can even act as mini endorsements of your brand. They're also a fun way to reward your community for being part of your story and supporting your business. 
Take the example of @gocleanco, a cleaning company based in Canada that experienced explosive audience growth during the pandemic thanks to their super-handy cleaning tips. They've since gone on to launch an online store complete with cleaning handbooks and merch designed especially for their community — lovingly known as the #cleaningarmy.
When their account hit one million followers, they ran a giveaway: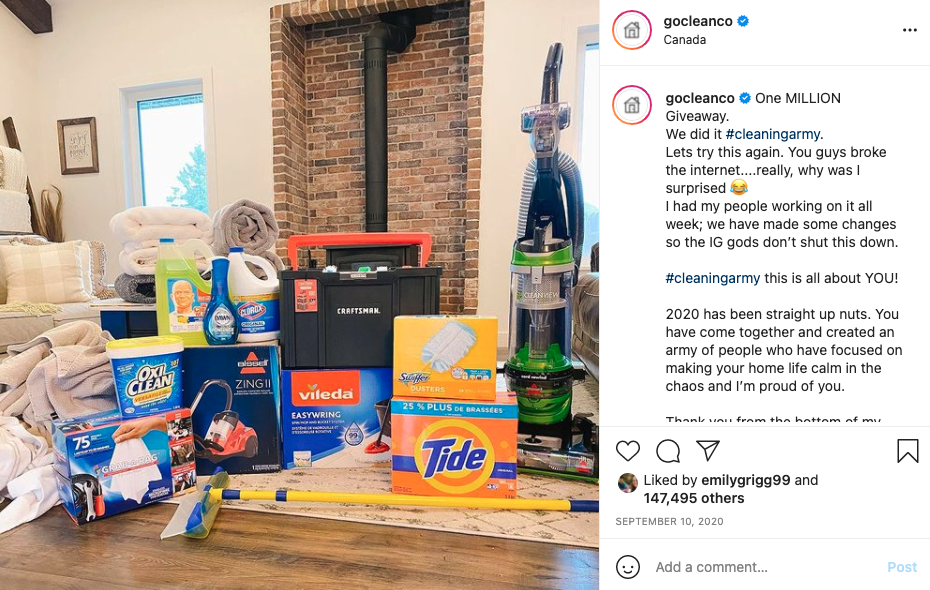 Here's the full inspo-filled caption:
One MILLION Giveaway.
We did it #cleaningarmy.
Let's try this again. You guys broke the internet….really, why was I surprised 😂
I had my people working on it all week; we have made some changes so the IG gods don't shut this down.
#cleaningarmy this is all about YOU!
2020 has been straight-up nuts. You have come together and created an army of people who have focused on making your home life calm in the chaos and I'm proud of you.
Thank you from the bottom of my heart. You have changed my life. 6 months ago we had 10,000 people here and that was a huge goal for a tiny cleaning company in Canada. I could not have dreamed this would happen.
Here's the deets, 3 STEPS ONLY:
1. Like this post ❤️
2. Comment below and tag your pals who haven't heard of us and let them know in a genuine comment why they should follow us! Has to be a comment folks, not just a tag, I'm checking!
3. Share this post with your stories and let your people know why you love us!
That's it! 3 steps, y'all don't have time for following trains—you have laundry to do and I respect that. 😉
Here's what's on the line:
$1000 American cash prize (Canadians or other countries—if you win, you'll get the appropriate daily exchange rate—sent via @paypal within 24 hours of the name being drawn)
A full @gocleanco cleaning kit!
You'll be fully set up to tackle ANY MESS that comes your way. Kit includes everything pictured here, plus more—the full list is on our website (link in bio to see full contest rules). I would love to tag all these brands, but I'll be going against the Instagram grain on this one, no tags so we don't get flagged as spam.
This is in no way a sponsored giveaway, put together strictly by me, for you!
6. Lean on influencers and affiliates
Social media influencers are professional community builders, which means if your products are a good fit for their audience, you can quickly tap into an existing group of like-minded people. 
It can be a challenge to find the right influencer for your brand, but the results are worth it with a whopping 87% of people saying social media influencers have inspired them to make a purchase.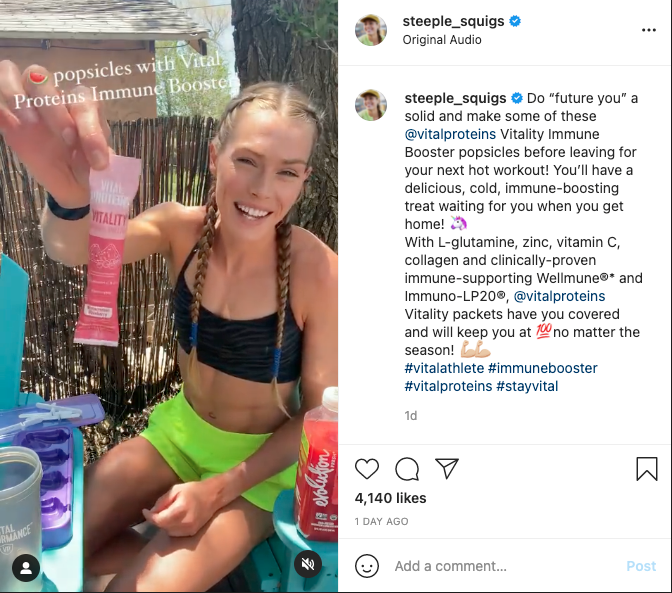 Colleen Quigley (@steeple_squigs), a US Olympian in steeplechase, produces content focused heavily on fitness and a healthy lifestyle. With their similar target audiences, Colleen is a great fit to promote Vital Proteins products.]
Not a fan of influencers? Why not try connecting with affiliates instead? You can find potential partnerships on an affiliate network or create your own program — and because affiliate programs incentivize content creators to actually drive conversions, some brands get a better ROI through affiliate marketing. 
7. Connect with a cause
Modern consumers have high expectations for brands, especially when it comes to social responsibility. In fact, 90% of consumers believe companies must act to help social and environmental issues, and 87% will purchase a product simply because the company advocates for an issue they care about.
But the impact gets even bigger.
Studies show that consumers are willing to pay more for a product when they know their purchase will contribute to a meaningful cause. They also grow more loyal to the brand — which can increase profits by 85%.
Of course, the real power of cause marketing isn't just to grow your brand. It's to unite your community around an issue that matters and to make a positive impact on the world. By leveraging your brand to benefit a meaningful cause, you're helping your community be part of something bigger.
One brand that truly excels at cause marketing is Pura Vida. The company was originally founded to support artisans in developing countries, starting first with colorful string bracelets made in Costa Rica. The brand has gone on to develop a unique collection of products that both represent and donate to individual charities, including environmental, humanitarian, animal, and health causes.
For the Pura Vida community, the products are an opportunity to support something meaningful and integrate it into their very identity.
Believe in the power of your people
It takes time, effort and genuine care to rally your people around your brand. But once you have that loyal group of fans behind you, the benefits are huge.
Customer community marketing can be a powerful force to help you grow your business, strengthen customer loyalty and retention, and increase profits. But it can — and should — be much more than that.
Customer communities support, encourage, and inspire each other while offering your brand an invaluable source of insight and feedback. As they spread your message (and products) to the people they care about, they can help you build an ever-stronger following, and help you and your brand become a force for good.