The e-commerce era is officially here to stay. And despite any ebbs and flows, the online shopping market is predicted to grow from $3.3 trillion today to $5.4 trillion in 2026.
But with increased opportunities, comes an uptick in competition — especially on high-traffic e-commerce marketplaces like Amazon.
With the rising pressure to win and keep customers' attention, many e-commerce sellers have made a push for improving their online stores, including their Amazon landing pages. In fact, more than 30,000 small and mid-sized businesses now sell on Amazon Storefronts in an effort to differentiate their brand and improve the consumer experience on Amazon.
Fortunately, getting on this wagon is easy. Custom Storefronts are freely provided to all Amazon marketplace sellers — which means optimizing your Amazon page won't cost you a dime. With a low barrier to entry and a high potential for boosting your Amazon ROI, there's no time like the present to start building or optimizing your Amazon Storefront.
The Scoop on Amazon Storefronts
What are Amazon Storefronts? And why is now the time to care?
5 conversion-friendly Amazon Storefronts to inspire your own
Can anyone have an Amazon Storefront? Your FAQs are answered!
Make your Storefront the next Amazon trendsetter
When it comes to Amazon's payment cycle for sellers, there's a lot more than meets the eye. For the full rundown on how (and when!) Amazon sellers get paid, don't miss our complete Guide to the Amazon Seller Payment Schedule.
What are Amazon Storefronts? And why is now the time to care?
Amazon Storefronts are essentially your e-commerce store or website but on Amazon.
Your Storefront is a landing page where customers can browse your entire range of products and completely immerse themselves in shopping with your brand on Amazon.
An Amazon Storefront can convey your brand's tone, style, and mission directly to the user, increasing the likelihood of an impressed customer buying more products directly from your page.
No more generic product listings or struggling to move shoppers to your website post-purchase. With Amazon Storefronts, your brand can make a powerful impression while increasing customer loyalty in the world's busiest marketplace. 🙌🏼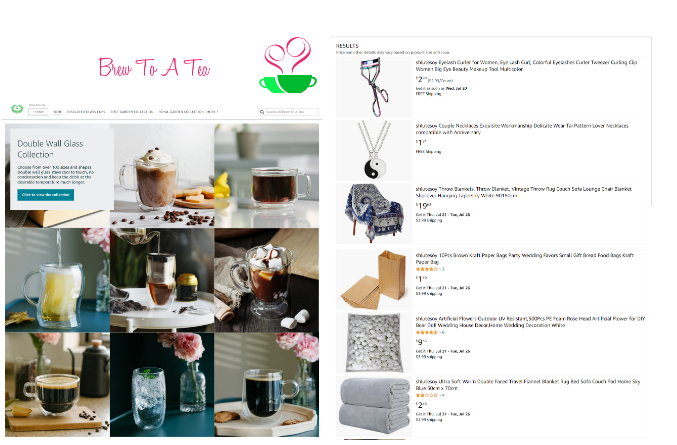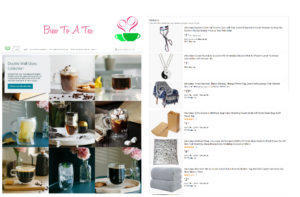 Here's a quick example of what a brand looks like with an Amazon Storefront vs. without an Amazon Storefront. Pretty big difference, right?
Are Amazon Storefronts a big deal?
You bet.
An Amazon Storefront offers your customers uninterrupted shopping. Shoppers see products from your brand and your brand only. No competitors are listed on your page, not even sponsored ads.
This means you have a shopper's undivided attention to not only showcase your products but also to tell your brand story.
Not only that, Amazon insights can help you track your traffic and sales, helping you create an effective Amazon ads strategy and continue optimizing your Storefront for peak conversions.
Just think: If you develop strategies to retain your customers by even 5%, you could increase ROI by 25-95%. Clearly, the potential to use your Storefront to fuel greater profits via Amazon is huge.
Looking for more ways to boost your sales on Amazon? The SellersFunding Daily Advance can help you access up to 90% of your incoming sales and see an average 75% increase in growth.
Does Amazon help me promote my store?
Absolutely! When you open up a Storefront, you get the benefit of three Storefront-specific initiatives for free:
Curated Collections
Storefront of the Week
Meet the Business Owners
These spotlights give sellers wide-reaching exposure with Amazon Prime's 200 million loyal customers worldwide.
If you're a new or small business, Amazon also highlights that in their results page to help drive customers to your store who are looking to buy from growing brands. This one small optimization also helps your store appeal to current trends in Millennial and GenZ shopping, which prioritize buying directly from brands, especially those that promote sustainability.
The younger generation of online shoppers also tends to buy more from stores that are transparent in their messaging. By illustrating your brand story on your Storefront page, you can build even more loyalty with shoppers.
What other benefits do I get from an Amazon Storefront?
Amazon frequently launches new initiatives for its retailers and while Storefronts hit the market in 2018, Amazon keeps adding new upgrades to make it an even better experience for both sellers and consumers.
An Amazon Storefront can help you:
Establish your credibility as a seller as people trust Amazon to be reliable
Rank higher organically on Amazon and Google
Use your Storefront as an aesthetically attractive, professional-looking landing page
Link your store to sponsored ads and increase RoAS by 22%
Capitalize on traffic from external sources to upsell other products from your catalog
Create a memorable experience for your customers using brand-centered visuals and copy
Get a custom URL to promote your store through ads or influencer marketing
5 conversion-friendly Amazon Storefronts to inspire your own
Customizing your Amazon Storefront to match your brand story, color palette and tone can help you stand out from your competitors and win more sales.
The even better news is, there's no right or wrong way to design your Amazon Storefront. But by keeping an eye on customer preferences, you can integrate all the key Storefront elements most likely to help you convert more sales.
Here are five brands with super trendy (and compelling!) Amazon Storefronts:
1. Maybelline's product-led branding with a bang 💥
Maybelline's makeup line is one that needs no introduction — and its Storefront doesn't give you one either.
Instead, they immediately show customers what they want to see: their makeup in use (through eye-catching videos and photos) and their full range of products.
A highly visual color palette of bold and neutral colors perfectly captures the aesthetic of Maybelline's lipsticks and foundations. The minute their Storefront pops up, the buyer is immersed in the colorful world of makeup.
What we ❤️ about this Storefront: The different product categories are presented clearly and in a way that is super intuitive for shoppers to take action. The 'Shop Face', 'Shop Eye', 'Shop Bestseller', 'Shop Lip' buttons make it easy for customers to quickly navigate to their products of choice. By shining a spotlight on influencers on the front page, Maybelline makes it easy for customers to 'get these looks'.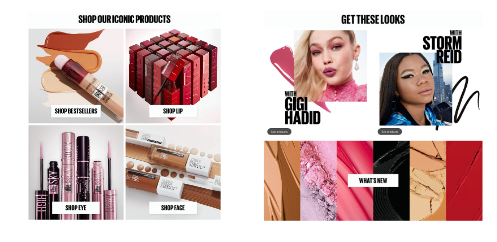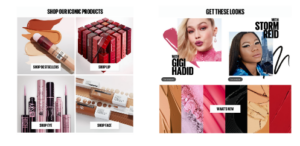 2. Biolyte's awesomely educational Amazon Storefront
Biolyte markets itself as the first over-the-counter bottled IV drink.
Unlike Maybelline, it doesn't have the luxury of decades of brand recognition. As a new product in a new market, it needs to take a little more time to introduce its products to potential customers.
Biolyte uses the first half of its Storefront landing page to explain the product, highlighting key features, uses, and credibility ("physician formulated"). The second half of the page then allows the customer to navigate to specific flavors.
What we ❤️ about this Storefront: Biolyte manages to balance aesthetics with facts, both enticing and educating its prospects. The Storefront offers comprehensive information about what this IV drink can do, why it's better than the competition, and shows that it's not only about just nutrition, but also taste (something customers might be worried about with a health drink).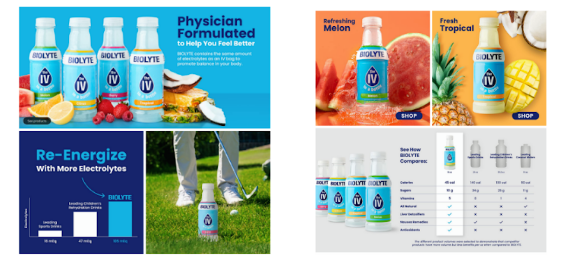 3. CocoTribe's deliciously eco-conscious Amazon Storefront
Sustainability and recycling coconut shells to make bowls shines through on their Amazon landing page.
Powerful visuals, explaining how the bowls go from coconut shells to the bowl, are both simple and effective. In a glance, CocoTribe's Storefront copy instantly highlights the eco-friendly aspect of its products. Bright and colorful imagery supports that message, using delicious product images to entice the customer to give their bowls a try.
What we ❤️ about this Storefront: CocoTribe uses eye-catching visuals, copy, and videos to illustrate its brand story and product. Customers trust transparency and CocoTribe does a great job of showing their sourcing and production process with the coconut shell and bowl imagery.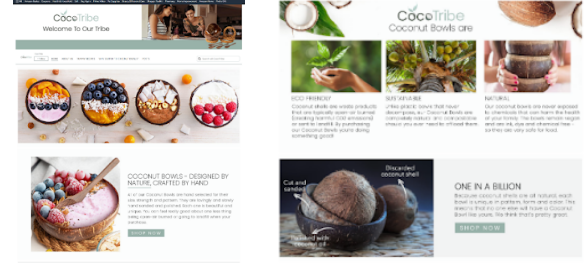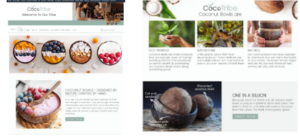 4. Atemi Sports' video-optimized Storefront
A specialist supplier of physiotherapy gym resistance bands, Atemi Sports is all about quality, affordability, and sustainability.
This message is highlighted immediately on their Storefront through bolded copy: "premium quality" and "made to last." The growing athletic brand uses photos to accentuate its sporty image.
What we ❤️ about this Storefront: The copy is great, but what's even better is the brand's videos illustrating how each product should be used. With such a compelling and educational visual aid, customers know exactly how the products work and will instantly feel comfortable purchasing it.


5. Bear Paws's niche-yet-noticeable Amazon Storefront
Bear Paws — a meat lifting, shredding, and serving tool — is a niche product in the wide market of grilling supplies.
In such a saturated market, Bear Paws needs its products to stand out — and their super-creative Amazon Storefront helps them do exactly that. From the intuitive banner design to the bear-themed visual elements, a commitment to creativity makes this brand unmissable on Amazon.
What we ❤️ about this Storefront: Through excellent copy (who doesn't love a perfect pun?) and consistently creative visuals, Bear Paws creates a fun, relatable tone. And since grilling is almost a trademarked American tradition, any customer looking to buy a Bear Paw is immediately drawn to the "made in the USA" seal. The image and brand presence is memorable and sure to stick — that's the power of creatively optimizing an Amazon Storefront!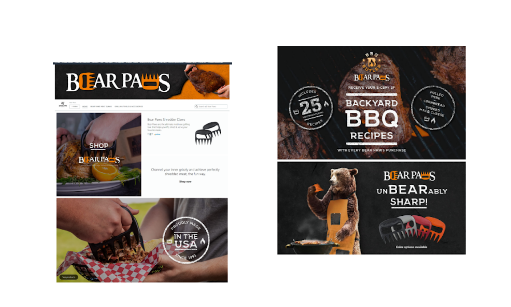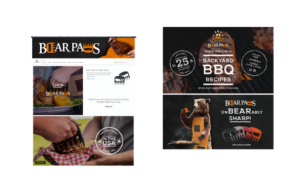 Can anyone have an Amazon Storefront? Your FAQs answered!
Now that we've looked at a few super trendy Storefronts, let's get your Amazon Storefront optimized!
Before you dive in, here are answers to some of the top questions you might have as you set up your Storefront.
Who is eligible for Amazon Storefronts?
All sellers, vendors and agencies enrolled in Amazon Brand Registry can open a Storefront on Amazon. Enrolling in the Brand Registry is free, and you don't need to be advertising on Amazon to open up a Storefront.
How many Storefronts can you have on Amazon?
Through an Amazon Webstore account, you can create up to five different Storefronts that are individually run.
How can I find Amazon Storefronts?
If you're looking for a specific seller's Storefront, type their brand name into the search bar. Next, click on one of their product listings from the results page.
Once the product opens up, you'll see a hyperlink that says, "Visit the XYZ Store". If you click on this link, Amazon will take you to the seller's Storefront where you can look through other sellers' catalogs.
If you're trying to access your own Storefront account, simply navigate to your seller central homepage and click on the tab that says "Storefront".
You can then proceed to open a Storefront if you haven't already, or access your published Storefront page. You can also access your Storefront by opening your Amazon marketing services homepage and clicking on the 'Stores' tab.
How do I set up an Amazon Storefront? 8 steps to success.
Make sure you have an Amazon seller central account and that you're enrolled in Amazon Brand Registry. Visit our help article if you need assistance finding your Amazon seller ID.
Log in to seller central and click on the 'Stores' tab, then click 'Manage Stores'.
On the Stores homepage, click on the 'Create Stores' button.
From there, you can select a template that works for you. Keep the image, text, and video elements you want to include on hand, and have a general idea of how you want to place them. Or you can try out different templates to see which one works best for your store.
Click on 'Store Builder' to customize your storefront and use the page manager to add pages. Consider adding pages as data shows 83% higher shopper dwell time on storefronts with more than three pages.
You can use the Tile Manager to add and arrange all your images, copy, and videos.
Use the preview option to see what your Storefront looks like on both desktop and mobile. Make sure to pay extra attention to optimizing your Storefront for mobile.
Once you're done designing your store, hit publish. Amazon moderators will review your storefront and then approve it to be visible to your customers! 🎉
Should I hire a professional to set up my Amazon Storefront?
While Amazon makes it easy for you to set up your Storefront on your own, you're sure to benefit from an expert web developer or graphic designer to give your Storefront a clean, professional look.
Graphic designers or marketing professionals who specialize in marketing on Amazon can help bolster your storefront with aesthetically pleasing, eye-catching visuals and excellent SEO-powered copy.
Depending on the skill and experience level of the partner you choose, some of these services might seem a bit pricey. The good news is there are plenty of e-commerce funding options available that can help you get the upgrades you need to scale your brand.
Make your Storefront the next Amazon trendsetter
Now that you're clear on what an Amazon Storefront is and what it can do for your e-commerce business, here are a few more tips to help you get the best out of your Storefront:
Pay close attention to your brand style and store layout
Dedicate a page to your brand story
Mobile-optimize your Storefront and make it super user friendly
Use plenty of images and videos to illustrate your products
Use your copy strategically to highlight your brand's keywords
Draw inspiration from other brands' Storefronts
Get creative to make your store stand out
With increasing competition and ongoing shifts in the e-commerce market, Amazon sellers need to do everything they can to differentiate their brand, knock their shoppers' socks off and keep them coming back for more.
By keeping your Amazon Storefront in top condition, you can position your store for peak sales and conversions — no matter what changes may come.